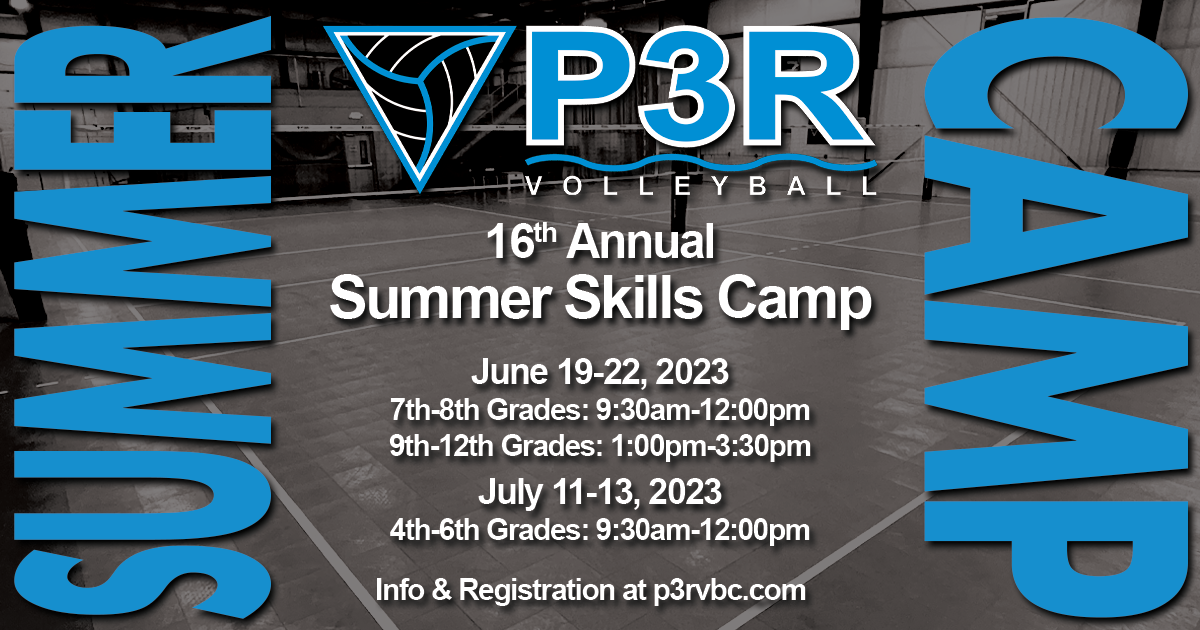 P3R Volleyball will be hosting our 16th annual Girls Summer Skills Camps this Summer! We will be offering three different age levels of camp from beginners to advanced level, and all skill levels in between. Get the P3R training from our award-winning staff in a condensed camp filled with our best technique training and lots of fun as well.
The three camps will all run at the following age groups and times:
June 19-22, 2023 (4-Days) $175
Middle School Camp (entering Grades 7-8): 9:30am-12:00pm
Advanced Camp (entering Grades 9-12): 1:00-3:30pm
July 11-13, 2023 (3-Days) $130
Beginner/Youth Camp (entering Grades 4-6): 9:30am-12:00pm
The Beginner/Youth Camp will be geared to those just learning the game and those with some prior experience. We will focus on skills and fundamental techniques to set the foundation for experienced volleyball players. Our elite coaching staff will take these advanced techniques and adapt them so that in just 3 short days, beginners will advance from novices to skilled players.
The Middle School Camp is geared mainly to beginner or experienced players getting ready for the middle school season or to take their game to the next level. This camp is designed for players that want to build beyond the basics and get ready for the game at a middle school level. Fine tuning of technique and using them in game-like situations will be the theme while focusing on the skills that will lead them to a spot on the team roster this Fall.
The Advanced Camp will be for players looking to make an impact on their high school varsity or JV rosters and pursue a career at the college level. Our collegiate coaching staff will be running a college level camp for not only varsity or JV level players, but future collegiate players getting ready to be recruited. Get ready for the next level!
Register TODAY as space is limited per session. For more info and to register go HERE!!!